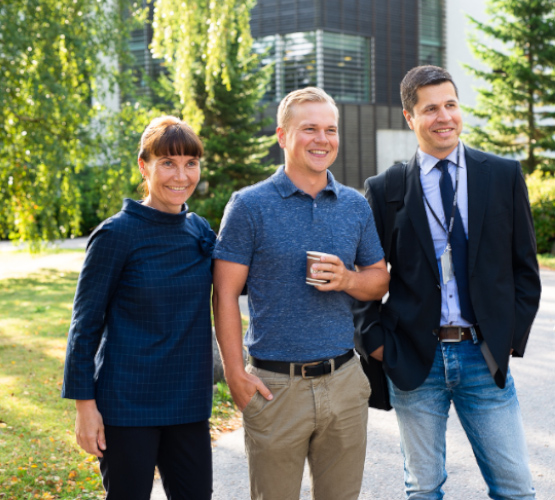 Build a vision and roadmap to become a modern digital organization

Today, we are faced with new technologies and innovations that are emerging at a pace that humanity has never seen before. Organizations that want to take advantage of these changes are struggling to cope with fundamental questions such as
Where should we start?
Which technologies and solutions do I need?
How do they impact my current infrastructure and operations?
How do we adopt and use the new solutions in our organization, so that they start delivering value quickly?
How can I ensure I comply with all local laws and regulations, such as the GDPR?
Modern Digital Organization - a Simple Framework to Help Uncover What Digitalization Means for Your Organization
As a leading Nordic provider of digitalization and cloud solutions and a team of approximately 600 dedicated business, process and technology professionals, we've built a framework for a modern digital organization. We use it to help our customers build clarity and determine their current state and then form a vision and roadmap for their next steps in digitalization and new technology adoption based on their objectives.
Our framework covers all aspects of digitalization and is split in five distinct areas. It helps our customers to successfully plan, deploy and implement new business models, processes and solutions in each area to move forward on their journey to becoming a modern digital organization.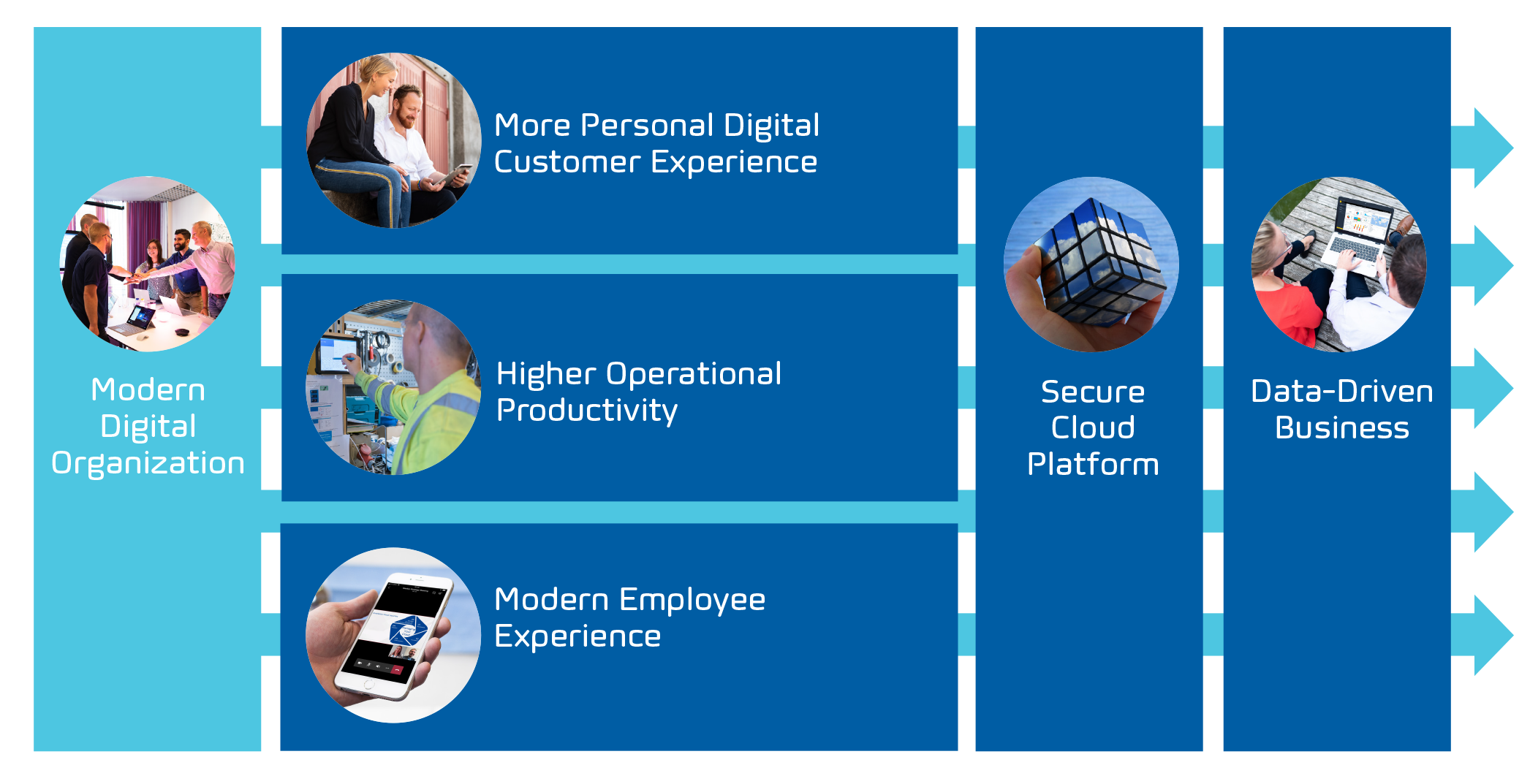 A cloud-era delivery model that ensures quick time-to-market and maximizes solution lifetime value
Our delivery, onboarding and customer success model is based on years of experience in providing both cloud based solutions, as well as traditional IT project deliveries. It consists of five stages, each delivering instant, tangible value. To reflect our Modern Organization framework, we offer our customers five focused journeys, depending on the type of solution, product or service that is needed. The value of our model is, that we not only help our customer to design and implement a specific solution, but we offer them support in adopting it within their organization, evaluating it's impact in the broader organizational and business & IT architectural context, as well as manage and continuously develop it throughout its lifecycle.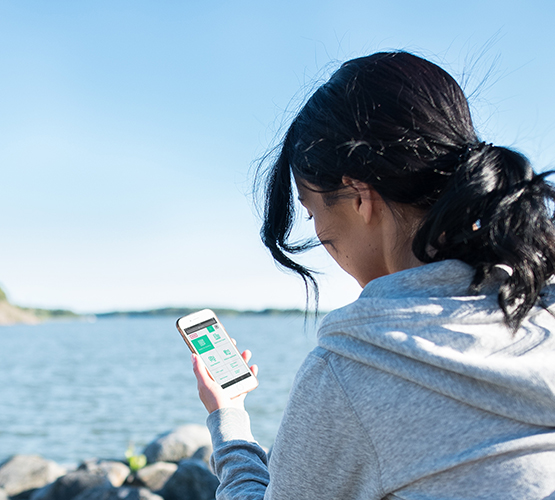 More Personal Digital Customer Experience

The modern digital organization serves its customers personally, effectively and on their terms – regardless of time, place or device. Innofactor helps organizations to put their customer in the center and design engaging, personalized digital customer services in all channels where their customers are present. This ensures end users have a best-in-class customer experience and quick and convenient access to the relevant services and information.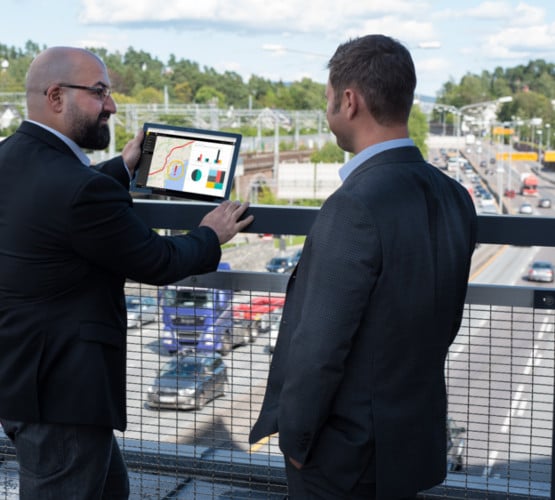 Higher Operational Productivity
To stay ahead of the game, the modern organization must be able to transform its operations at a faster pace than ever before. Digitalizing business processes and leveraging new cloud based business applications enable companies to do so by giving them better control over their operations. This is achieved by optimizing the usage of resources and leveraging the wealth of information spread across the organization to make better decisions and accelerating innovation by making business processes more agile.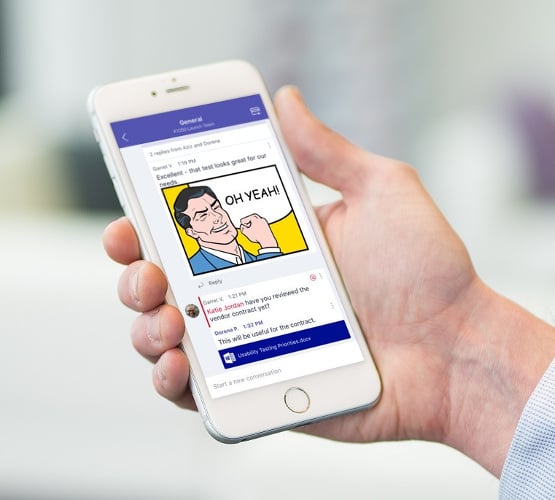 Modern Employee Experience
Digitalization has essentially changed the way we collaborate and work. A modern organization empowers its employees to effectively interact and collaborate with co-workers, customers and other stakeholders and provides them the skills and tools needed to access and share relevant data effectively and securely – regardless of time and place. As a result, its employees are both more productive, as well as more motivated and able to react to changes in customer needs and the organization's business environment.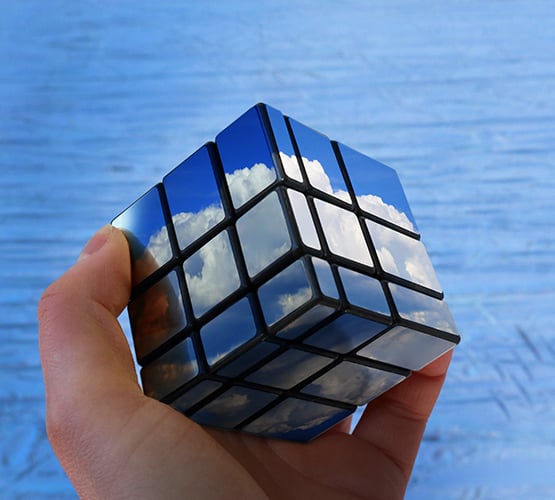 Secure Cloud Platform
Cloud computing has become the backbone of digitalization and a core requirement for a modern organization's sustainable innovation. It enables faster business transformation by allowing organizations to access and analyze data and take new functionality and improved solutions into use quickly and effectively. Still, for millions of professionals worldwide, the overall understanding and knowledge around cloud technology is weak. To truly leverage the potential of cloud technology, one needs to re-evaluate everything one knows about IT.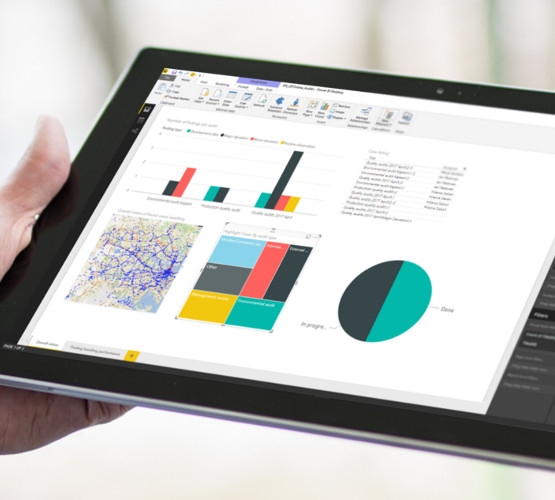 Data-Driven Business
The amount of data created within an organization increases exponentially and is fragmented in multiple sources and databases. It ranges from various forms of operational data points to information about customers, projects, employees and partners.
New capabilities such as advanced analytics and machine learning, as well as enabling technologies like IoT have emerged to facilitate the consolidation and analysis of vast amounts of data from various internal and external sources. The modern organization empowers its employees, decision makers and stakeholders by leveraging real-time data and artificial intelligence to support their decision making .