Quality
Quality defines the way we work. To ensure a high level of quality, we have invested a lot of time to our processes and product development. Continuous interaction with and understanding the businesses of our clients underlie all the work we do for our customers. Only when we have kept all our promises and surpassed our client's expectations can we be confident that the customer's demands have been met. Our many long-term partnerships speak for themselves.
We follow common Innofactor processes in all countries.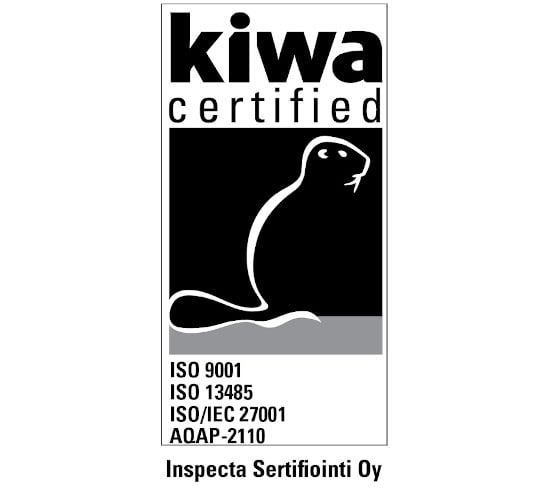 Certificates
Innofactor Plc has been awarded four certificates.
ISO 9001:2015 Quality Management System Certification
ISO 13485:2016 Management System Certification (medical devices)
ISO/IEC 27001:2013 IT security management system certification
AQAP-2110 certificate, which covers the quality requirements set by NATO for its suppliers
The certifications were carried out by Kiwa. Detailed information about the certificates can be found on Kiwa's website (in Finnish). iso 27001dddd
Innofactor's Quality Policy
Innofactor's mission is: Driving the #ModernDigitalOrganization. This means that we want to deliver solutions and services with accuracy, quality and in cost-effective way.
We focus 100% on the customer. We understand our customer's critical needs and requirements and continuously exceed them.
Quality is that we deliver our solutions according to beforehand defined quality and applicable regulatory requirements with high customer satisfaction.
Our quality system provides clear models and boundaries for our operations which we continuously improve.
Quality of the service is ensured by competent and motivated personnel.
This quality policy has been understood and internalized in all parts of Innofactor organization. We all in Innofactor understand that channeling our individual talents to fully benefit our customers is best done by using a clear quality system.
Way We Work
Innofactor's strategy for differentiate from the competition:
The most competent Nordic teams
Productized and specialized offering
Proactive and agile way of working
Innovation with top customers