Sustainability
Innofactor considers sustainability as one of the cornerstones of its long-term success. Sustainability is not only a condition for the continuation of operations. It also represents a way of responding to stakeholder expectations. Technology companies play a significant role in the mitigation of – and adaptation to – climate change. The IT sector also makes it possible for other organizations to reduce their carbon footprint. Our operations are guided by our Code of Conduct and environmental policy, in addition to which we comply with the leading international sustainability standards, such as the ILO Declaration on Fundamental Principles and Rights at Work, the UN Universal Declaration of Human Rights, the UN Sustainable Development Goals, and the principles of the ICC Business Charter for Sustainable Development.
Innofactor's internal operations are managed through predefined core processes and standards. The key processes related to sustainability include the company's processes relating to legal affairs, risk management, and human resources, which govern many of the main aspects of corporate responsibility. The framework for Innofactor's operations is provided by the ISO 9001, ISO 27001, ISO 13485, and AQAP-2110 standards, which the company's various processes adhere to.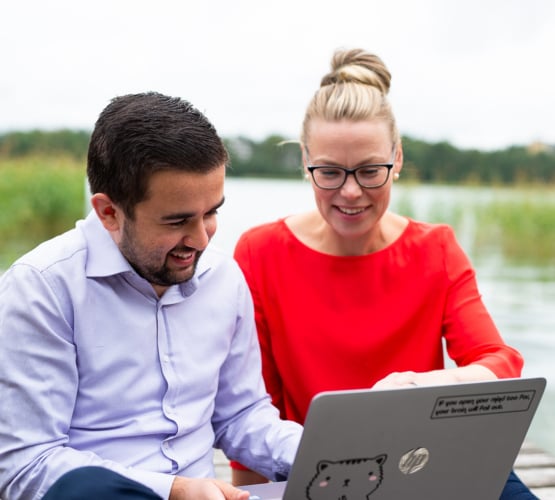 Innofactor Stakeholder Survey
We want to engage our stakeholders in our sustainability efforts, and by answering this survey, you can help us work on sustainability topics that matter. The results of the survey will be used to develop Innofactor's sustainability strategy, as well as to determine the most relevant sustainability topics that we will measure and report.
The survey takes approximately 10–15 minutes to complete. Please respond by June 25, 2023. Your answers will remain anonymous. As a thank you for participating in the survey, we will make a donation to the John Nurminen Foundation to save a piece of the Baltic Sea!

Innofactor is committed to supporting the achievement of the UN Sustainable Development Goals (SDGs) by 2030. Accordingly, we have assessed the main objectives from the perspective of our business operations.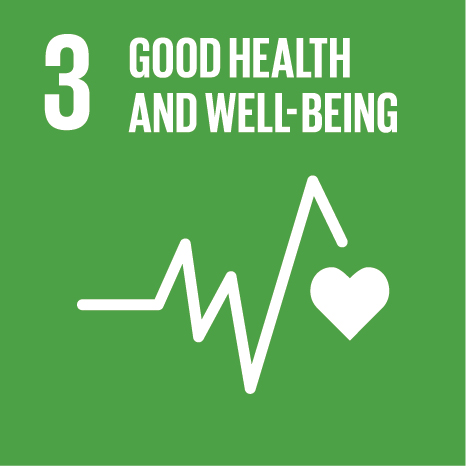 Good Health and Well-Being
The IT sector can act as a significant player in scaling social welfare and healthcare services by enabling access to services from any device, regardless of time and place. Microsoft awarded Innofactor as Tech for Good Partner of the Year 2022 in Finland. In particular, the endorsement focused on healthcare solutions developed in cooperation with the Joint Authority of the Helsinki and Uusimaa Hospital District (HUS), such as the Health Village public online service for specialized health care and platform solutions for digital care pathways.
Innofactor takes care of its personnel's well-being by providing diverse health services and offering regular occupational physiotherapy services to improve ergonomics, for example. During the COVID-19 pandemic, we launched weekly exercise breaks in the fall of 2020, organized by our occupational health care partner in Finland, and this practice continued in 2022.
We offered lectures on self-management, delivered by an occupational psychologist, for our employees in Finland. We also offer COVID-19 vaccinations to our employees through our occupational health care partner.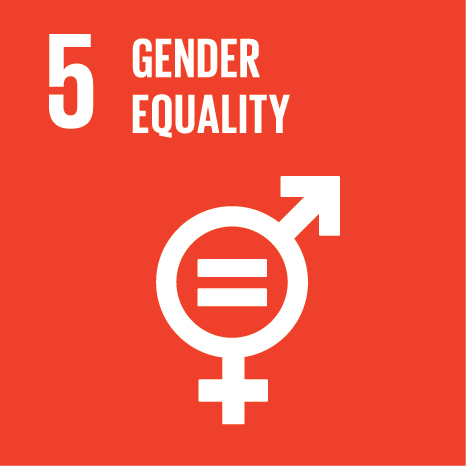 Gender Equality
Our personnel's diversity is in a key position at Innofactor, and we see diversity as an important factor in creating innovation and supporting the organization's operating and renewal capacity. During Helsinki Pride Week 2022, a number of our employees were given the opportunity on Innofactor's social media channels to talk about what diversity and inclusivity mean to them.
We conduct annual 360° evaluations for our managers, comprising a self-assessment and feedback from team members, colleagues, and their managers. As part of this feedback process, we asked about the manager's ability to take advantage of diversity in the workplace community. In 2022, this was the area in which we had made the most progress during the preceding year, and it was highlighted as one of the key competencies of our managers.
Parental leave is also a key element of equality. In Innofactor's company-specific collective agreement, the first 36 days of parental leave after pregnancy leave are paid on an equal basis, also for the non-birthing parent.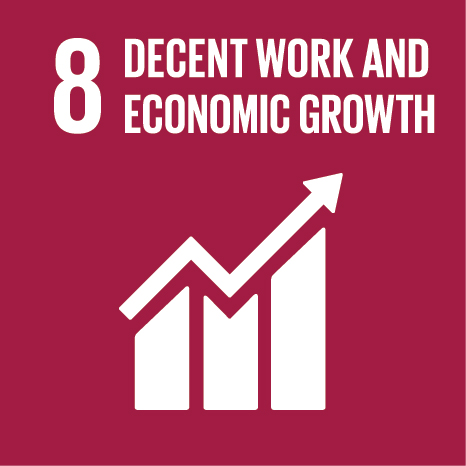 Decent Work and Economic Growth
We contribute to economic growth through innovation and new technologies. The measures we have taken to employ young people support this goal to a significant degree. During the COVID-19 pandemic, we focused even more on remote work opportunities for our employees and sought to offer new jobs despite the difficult circumstances. In the Nordic region, we recruited over 30 new graduates or students nearing their graduation for the DigiStar Trainee Program that began in May 2022.
In late 2022, we participated in a campaign coordinated by the Confederation of Finnish Industries that aimed to highlight the importance of companies in ensuring well-being in Finland and the significance of innovation, for example.
Environmental Responsibility
As an organization operating in the IT sector, Innofactor has a unique opportunity to be part of the solution in reducing environmental impacts. The digital solutions we deliver to our customer organizations play an important role in mitigating and adapting to climate change. Digitalization of manual processes and digital healthcare are examples of solutions through which Innofactor promotes its customers' – and thereby the entire society's – sustainable development.
Our environmental policy guides the actions we take to reduce our adverse environmental impacts and respond to the challenges caused by climate change.Our environmental policy defines the principles we always follow in our own operations and in the deliveries to our customers. The principles of Innofactor's environmental policy include continuous development, improvement of preventative actions, and reacting to the changing operating environment. Innofactor complies with all applicable laws and regulations and expects the same from its partners and suppliers. The environmental policy concerns the entire Innofactor Group and is available on our website.
Carbon footprint
We calculated the Innofactor Group's carbon footprint for the first time in 2022. The calculation included the emissions arising from the electricity and heating consumption of our operating locations (Scope 2), the emissions generated by our leased vehicles (Scope 1), and our most significant Scope 3 emissions. Scope 3 included business travel by car, flights, nights spent at hotels, computer and telephone purchases, and the water consumption of our offices. Our total carbon footprint for 2021 came to 288.7 tCO2e. We compensated our total calculated emissions through certified international projects, making Innofactor a carbon-neutral company starting from 2021.
In 2022, our total carbon footprint was 383.3 tCO2e. The calculation included the same emission categories as in 2021. The increase in emissions compared to the previous year was due to a manifold increase in business travel, which had reduced to a minimum during the COVID-19 pandemic. For example, our annual employee event, InSpirit, was not organized during the pandemic. The lifting of the pandemicrelated restrictions on travel and large gatherings led to a substantial increase in flights and nights spent at hotels. The calculation indicates that heating is our largest source of emissions, while many of our offices have already switched to renewable electricity. We aim to reduce our total emissions each year, which will also decrease the amount needing to be compensated. Our first step toward that goal is to increase the use of renewable energy at our offices.
Carbon footprint 2022: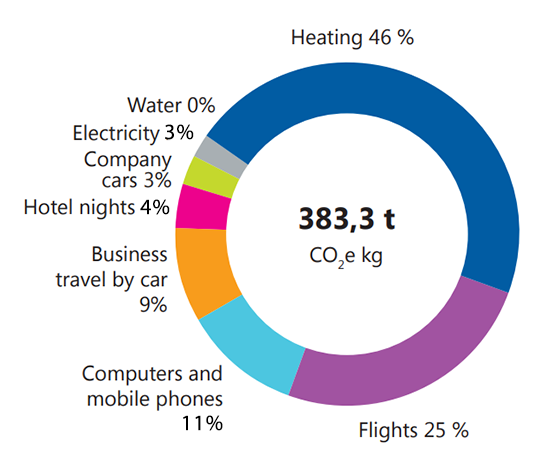 | | | |
| --- | --- | --- |
| Resource | CO2e | Share |
| Heating | 174.9 | 45.6% |
| Flights | 96.4 | 25.2% |
| Computers and mobile phones | 43.2 | 11.3% |
| Business travel by car | 32.4 | 8.5% |
| Hotel nights | 14.4 | 3.8% |
| Company cars | 11.4 | 3.0% |
| Electricity | 9.4 | 2.5% |
| Water | 1.2 | 0.3% |
We aim to actively identify further energy-saving opportunities within our organization. As the use of electric and hybrid cars becomes increasingly common, we recognized the need for charging stations at our Espoo Campus. In spring 2020, we partnered with our lessor to install the first charging stations, and the number of charging stations was recently increased by a considerable amount. The charging stations are available for use by our employees.
Innofactor has a policy aimed at extending the lifecycle of computers. Factors considered in the renewal of computer hardware include the user's needs and the possibility of updating existing devices.
We recycle all recyclable materials such as cardboard, organic waste, metal, plastic, and glass. Our electronic waste is recycled by Kuusakoski Recycling.
Remote work is an essential part of the operations of a modern digital organization. In 2020, the global pandemic forced many organizations to switch to remote work extensively and accelerated the digital transformation of organizations. We provide our employees with good opportunities for locationindependent work. Using Microsoft Teams as a meeting tool brings added value to the operations of both Innofactor and its customers.
Innofactor employees also carried out various sustainability actions in their teams during the year. In Finland, we participated in the Kilometrikisa cycling campaign and the Finnish Red Cross Chain Reaction fundraiser, which saw us donate one euro for every 25 kilometers of cycling to help people adapt to and prepare for the impacts of climate change.
Social Responsibility
In accordance with our #PeopleFirst theme, we put people first in everything we do. This applies to our customers — who are the focus of our operations — and our employees and investing in their well-being and development.
In 2022, we focused on managerial work in even more diverse ways than before. We have focused on building a Nordic manager community to establish a consistent leadership culture and practices. As part of this effort, we used the Innofactor Academy to organize managerial training on coaching-style leadership, for example. We want to provide our managers with the best possible tools for supporting and coaching our specialists. We also conducted a 360° evaluation in which managers conducted a self-assessment and received feedback from their subordinates, colleagues, and manager. The results help the managers develop their leadership skills and practices. Based on the 360° feedback, the key strengths of Innofactor's managers include inspiring others, supporting better performance, and taking other people's opinions into consideration.
In 2022, Innofactor continued the recruitment and training of students nearing their graduation, with over 30 new participants recruited in the Nordic countries for the Innofactor DigiStar Trainee Program. In 2022, Innofactor recruited and trained a total of 37 undergraduate students.
The IT industry is constantly evolving, and an innovative operating environment plays a key role in the success of organizations. At Innofactor, we are increasingly focused on harnessing the potential and strategic capabilities of our employees and giving them the freedom to apply their skills in the workplace. Self-organization is a strategic choice that empowers our teams. This gives them the opportunity to change the world and innovate with our customers.
In 2022, we made two charitable donations to Unicef to support children in Ukraine. The first time, our entire staff had the opportunity to participate in the fundraiser with their own donation, and the second time, our staff chose Unicef as the target of our Christmas donation. In addition, we gave our teams the opportunity to use working hours for volunteering in late 2022. For example, one team helped with the distribution of food supplies to Ukrainian refugees.
Data Security and Data Protection
Innofactor's customers require appropriate data security in their services, and they need the services to enable compliance with the EU General Data Protection Regulation (GDPR). Innofactor's management has identified several critical cyber risk scenarios against which a company needs to protect itself. The company is committed to protecting its customers' and partners' information and systems and naturally, Innofactor as a company itself. In order to ensure the level of information security corresponding to the risks, Innofactor maintains a certified information security management system in accordance with the ISO 27001 standard.
In its operations, Innofactor is committed to maintaining a high level of data protection and respects the privacy and rights of its personnel, customers, and users. Through regular internal audits and the continuous development of information security, we aim to continuously develop data protection and information security in our operations and processes. Information security and data protection are mandatory parts of induction training in addition to continuous training on information security and data protection. Innofactor's information security group meets regularly to guide the development and implementation of information security and data protection at Innofactor. The company has a designated information security manager and a data protection officer. Additionally, the company's main personal data registers have been assigned to the persons responsible for them.
Respecting Human Rights, Anti-Corruption and Anti-Bribery
Innofactor's Code of Conduct defines the general principles and guidelines that the company's employees and partners adhere to. We arrange trainings concerning the instructions in all of our offices at regular intervals.
Transparent business in accordance with the highest ethical standards is the basis of our company's operations. We use our anonymous whistleblowing channel for reporting suspected violations of our Code of Conduct. All reports received via the channel are processed in strict confidence.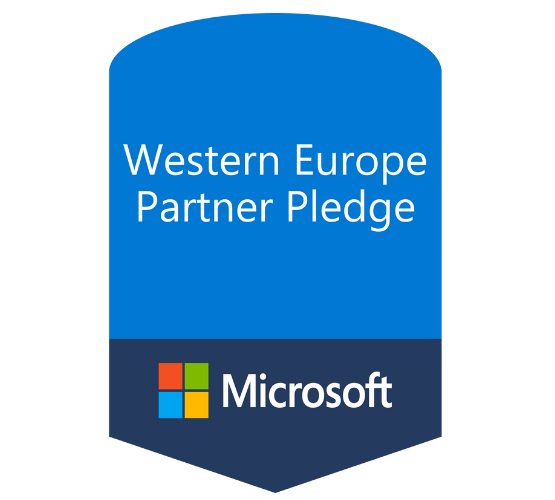 Microsoft Partner Pledge
Innofactor has signed the Microsoft Partner Pledge. Signing the Pledge indicates our commitment to use technology for good, and invest in the following four areas:
Digital Skills
Diversity
Responsible and Ethical AI
Sustainability
Learn more about the initiative here.